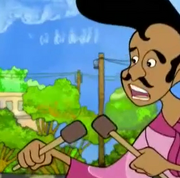 Enrique is a minor character. He appeared briefly in the episode "Westley Side Story". He was on the street corner playing with bongos. He replied to Sunny Bridges when he called his attention. When he saw the Eastley students approach Sunny and his students, he called them bandits. Enrique speaks Spanish. A few of the lines Enriue said are: Nada? (Nothing?). Porque se llama Kim y Kam (Because your names are Kim and Kam). De nada. (You're Welcome).
Ad blocker interference detected!
Wikia is a free-to-use site that makes money from advertising. We have a modified experience for viewers using ad blockers

Wikia is not accessible if you've made further modifications. Remove the custom ad blocker rule(s) and the page will load as expected.