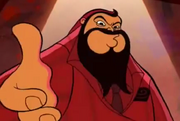 Big D is a major character who appears in the episode "The Devil and Lil' D". He made a deal with Li'l D where he would sign a contract to become a music star. As Li'l D sign the contract, he gave his soul to Big D in the contract. Big D also participated in the song "We Want Your Soul". Towards the end of the episode, Li'l D managed to break out of the contract with the help of Sunny Bridges and because of this he lost the deal.
Ad blocker interference detected!
Wikia is a free-to-use site that makes money from advertising. We have a modified experience for viewers using ad blockers

Wikia is not accessible if you've made further modifications. Remove the custom ad blocker rule(s) and the page will load as expected.